June 30 world will celebrate (30 Years GIF)
June 30 marks the 30th birthday of the GIF, even though the internet may still dispute and fight its pronunciation, we can all agree with the fact the GIF has performed an important role in shaping the web.
Long before Hd-video became typical of the web, a GIF was about as effective as it got. In the event that you required a moving image in your internet browser, you used a GIF. Miraculously, the GIF survived, and moreover, it became a vocabulary of all expressing itself.
We put together a set of culturally significant and memorable GIFs to rejoice its birthday. Happy Birthday, GIF. This one's for you.
1. Haters Gonna Hate

2.Shaq/Hillary Shimi

3.Typing Cat

4.Crying Jordan

5.Trump Debate

6.Crying Kid

7. Dancing Baby

8. Dawson Crying
9.Dancing Banana
10.Surprised Marmoset
11.Aerobic Hunks
12.Oprah 'Bees'
13.Kim Kardashian Crying
14.Homer back into the bushes
15.Nick Young Questions Things
16.Supa Hot Fire
17.Tea Lizard
18.Kid Does a Dunk
19.OMG Clap
20.Winona Ryder Realizing Things
21.Knife Crab
22.Blinking White Guy
23.Dumpster Fire aka 2016
24.Tom DeLonge 'WTF'
25.Obama Out
26.Survivor
27.Ron Burgundy 'I Don't Believe You'
28.Doc Rivers Speechless
29.Judge Judy Wrap It Up
30.Doggo Doing a Wag
BONUS
Hope you liked the GIFs listed above. Here are some of the GIFs which you might have seen the most on the internet but couldn't make our list.
I'm not going to do it. I'm not. OK, fuck it.. GOOD DAY TO YOU, SIR! Shocked WWE fan to Undertaker loss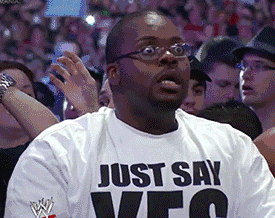 Share this with your friends and comment which you liked the most. 🙂
Comment if we missed something and let us know.
Source via GIPHY